---
NOTE: All the studies we will review are tagged with citation numbers like this: [2]
If you click on that red number, you will be transported to the actual study.
Many of the graphics can also be enlarged by clicking on them.

---
Shaklee's Hidden Gems

Over the last 13 years, Shaklee has so much to be proud of, including the release of Cinch and the Get Clean lines in 2006, the publication of the Landmark Study and the release of the new Vitalizer System in 2007, Vivix in 2008, the ShakleeKids and ShakleeBaby product lines in 2009, Cholesterol Reduction Complex in 2010, the new and improved Joint Health Complex and gender-specific improvements to the Vitalizer System in 2011.

That was followed by the release of the Shaklee 180 Turnaround System in 2013, MindWorks, Vitalized Immunity and Shaklee's Blood Pressure in 2014, and the introduction of the Shaklee Life Plan and the Life Strip in 2015.

In 2016, Shaklee brought all their multivitamins up to Prenatal/Postnatal standards and also introduced the HealthPrint questionnaire and analysis system. In 2017, Shaklee reinvigirated skin care by introducing the YOUTH Advanced Anti-Aging skin care regimen, while also introducing the new Performance Fitness Pack.

In 2018 we were introduced to Optiflora DI, significant enhancements to the Life Shake line, and 2 new additions to the YOUTH skin care line (Hydration and Detox). In 2019 we met the new Prove It Challenge and heard that Landmark 2 would be published in late fall. Phew, what a ride!

The only drawback with that much excitement is that its possible to lose focus on all the rest of Shaklee's amazing products. So, this edition of HealthQuest is dedicated to reviewing a few of those remarkable products, the ones that I refer to as Shaklee's "Hidden Gems". Because the following products are not prominently featured on sectional "splash pages", you may have to dig a little to find them.

---
Thank Heavens for the improved Shaklee Search Tool.
---
Please understand: No criticism is intended or implied. When you have hundreds of fantastic, everyday products, it's impossible to highlight them all equally.

So let's get started, to find out why you might want to add the following products
to your everyday list of favorites.

---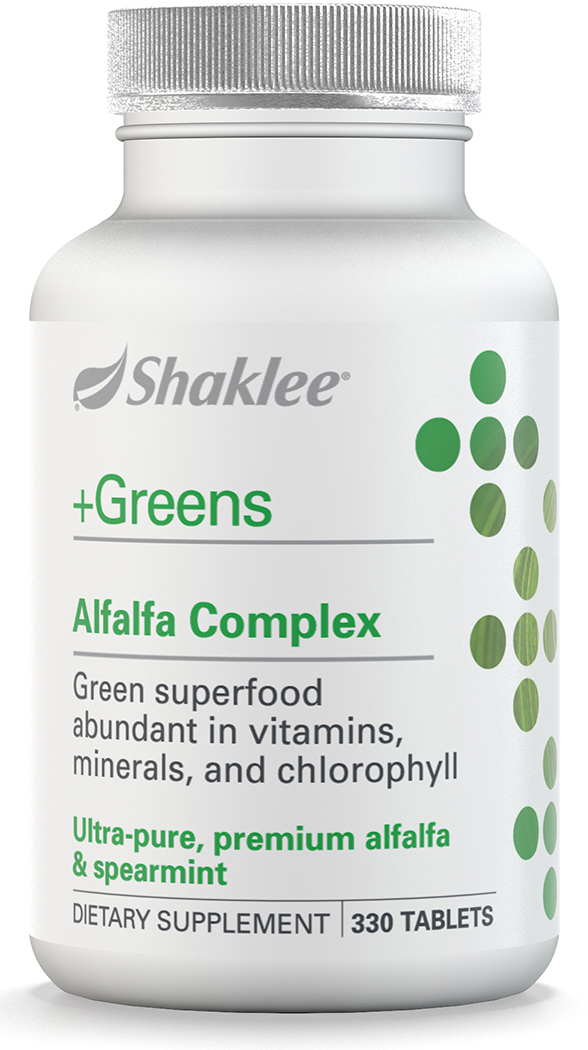 Shaklee's Premium Alfalfa Complex: (20160)

Best known as a grazing crop, alfalfa has been a staple in traditional medicine for more than a thousand years, for managing healthy digestion, asthma, and related respiratory complaints. Because of its deep tap root (anywhere from 10-50 feet deep!) [1], [2] alfalfa leaves are very high in protein, calcium, and a number of other important minerals, as well as a spectrum of vitamins, including the B's, C, D, E and K, along with numerous digestive enzymes. [3]

A Google search for alfalfa gets boring pretty quickly. It was only after I ran across an article about a group of compounds called phytoalexins, while I was researching the benefits of organic produce, that I stumbled on the key to why Shaklee's Alfalfa product is so beloved by the Shaklee Field. [4]

Phytoalexins refer to a class of phenolic compounds, produced by plants as a response to assault by molds, mildews, bugs, viruses or other micro-organisms.

These unique compounds rarely appear at any concentration in conventionally grown, or bug sprayed fruits, grains or vegetables; they are only found at appreciable levels in organic produce. [5] This is because plants only need to produce these powerful phytochemicals as an "immune response" to attack. Without this threat stimulus, plants have no need to produce them. Biologists refer to these phytonutrients as secondary metabolites, because they are "organic compounds that are not directly involved in the normal growth, development, or reproduction of the plant". [4]

Additional phytoalexin research revealed that organic alfalfa produces a protective agent called medicarpin. This compound has been found to be so effective that Merck Pharmaceutical Company patented a synthetic version of it as a therapeutic agent to treat allergic conditions, asthma, cardiovascular disorders, and inflammation. [6] This helps to explain why Alfalfa Complex has always been so popular in the Shaklee family for managing respiratory and allergic disorders. [7]

---
Phytoalexin production in plant cells after an attack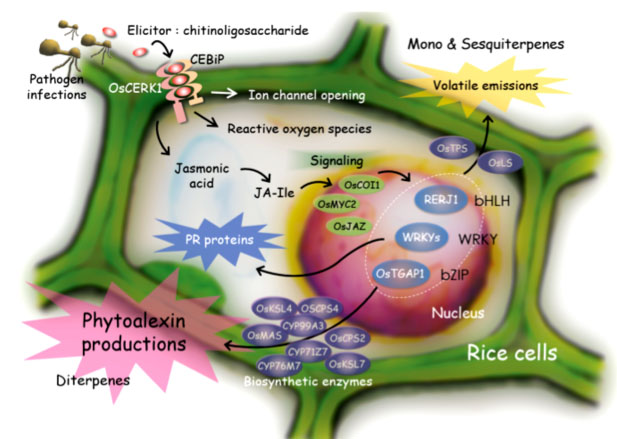 ---
Alfalfa is also a natural antihistamine and decongestant, acts as a digestive aid, and is an important source of trace minerals. It is highly effective for relieving congestion, even when caused by allergies or hay fever. In addition it also reduces swelling, pain, and stiffness in the joints.

What continues to strike me as strange is that, until I searched specifically for the term phytoalexin and medicarpin, I would never have discovered that alfalfa was so beneficial. This provides a dramatic insight into the wisdom of Dr. Shaklee. Alfalfa tablets were one of his early legacy products, created during the early 1960s.

As you will soon discover, he was a brilliant and insightful herbalist.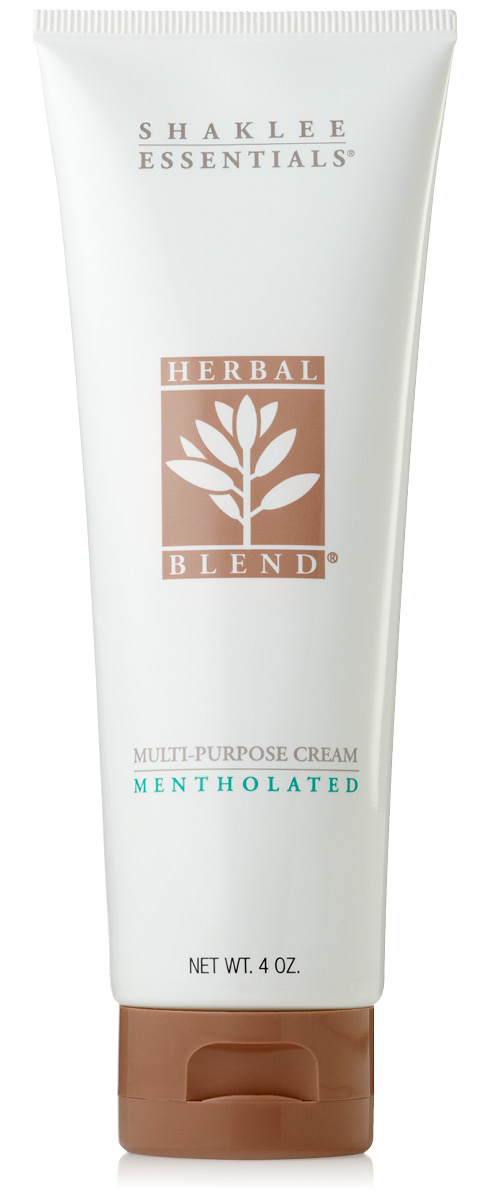 Herbal Blend Multi-Purpose Cream: (39078)

Shaklee recommends this skin cream for addressing dry, chapped, callused, or roughened skin on the knees, elbows, and feet. To gather more information about this product, I interviewed friends who had been using this product for 20 or 30 years, and was stunned by the spectrum of complaints they had used it for, from calming and repairing the itchy skin of eczema and psoriasis, to soothing the pain of bug bites and sunburn. It was after I began researching the numerous natural herbs contained in this formula [8] that I discovered why it was being been used for so many different complaints.

Herbal Blend contains menthol, a crystalline compound with a cool minty taste and odor, and is derived from peppermint oil. A recently published (2012) study reported on 96 pregnant women, who were suffering from pruritus gravidarum, an intense itching and associated rash on the abdomen, hands and/or feet. Pruritus is reported to affect somewhere between 8 to 20% of all pregnant women. Half this study group was treated topically, twice a day, for 2 weeks with peppermint oil. The menthol group reported a dramatic decrease in their discomfort levels, from an average of 6 out of 10 severity, down to a 1 (no complaint) post-treatment. [9] Considering that most pregnant women would prefer to avoid using synthetic drugs, this natural menthol treatment has proven to be an extremely effective natural alternative.

Two other new studies help explain why menthol is so effective for pain relief. The first study (2013), conducted by scientists from the School of Pharmacy in the Shenyang province of China, helped demonstrated why menthol is able to enhance absorption through the skin, by easily penetrating the fat layer of our skin They are now researching how menthol can help improve drug transport across the skin barrier. [10] The second study, by scientists at the Neurological Pain Research Institute in Germany, elucidated the mechanism by which menthol reduces neuropathic pain over a 4 hour period. [11] It appears that the menthol in Herbal Blend can reduce pain, while enhancing the absorption of the other herbs found in this amazing product.

---
Herbal Blend also contains sage (salvia officinalis), an herb which provides dramatic antioxidant protection, which has been shown to halt and reverse oxidant-induced DNA lesions. [12] It was also shown to inhibit the proliferation of lymphoma and leukemic cancer cells by causing apoptosis (or death of those cancer cells). [13]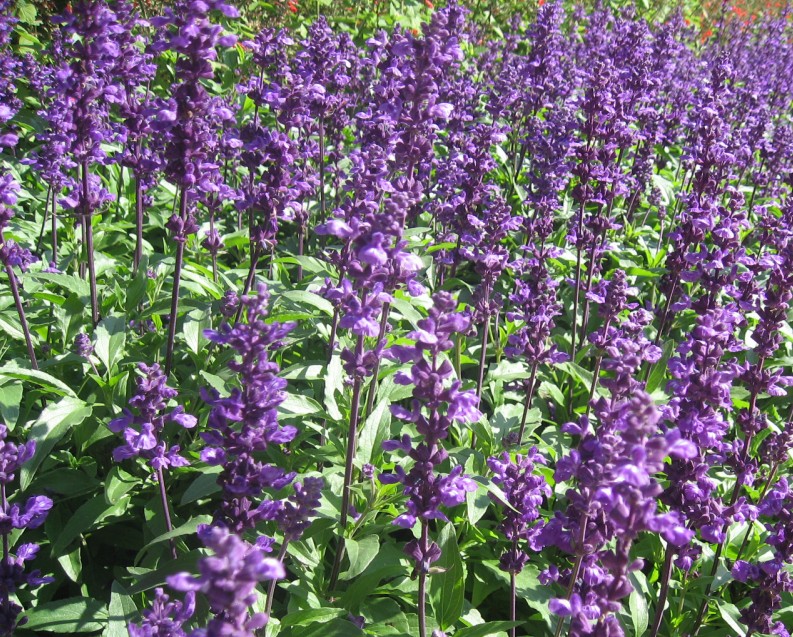 ---
Herbal Blend also contains coltsfoot (Tussilago farfara), which has been shown to be a valuable compound for treating inflammatory conditions. [14] The flowering buds of coltsfoot is used in Oriental medicine for the treatment of bronchitis and asthma. A recent experiment by the Department of Pharmacology in the Gyeongju province of Korea revealed the powerful anti-inflammatory and antioxidant properties of this extract, by exposing living nerve cells to a variety of different chemicals that cause oxidative damage and neurotoxicity. They found that this extract was so protective that they now recommend it for the management of neurodegenerative disorders that involve inflammation, toxicity, or oxidative damage. [15]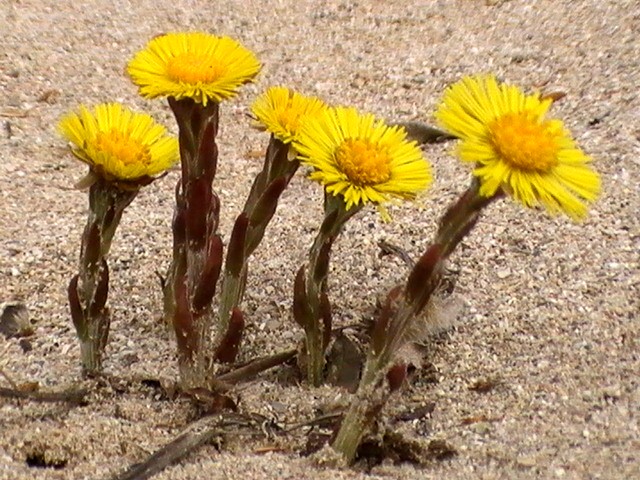 ---
Herbal Blend also contains rosemary (Rosmarinus officinalis), an herb rich in phenolic compounds that provide both antioxidant properties and antibacterial activities. [16] One of the reasons for the failure of skin transplantation, following severe burns, is the oxidative damage and necrosis that occurs to the skin flaps during the procedure. Extracts of rosemary have been shown to dramatically improve skin flap survival, and increased vessel diameters in skin when it was treated with rosemary extract, at least a half-hour before the procedure took place. [17]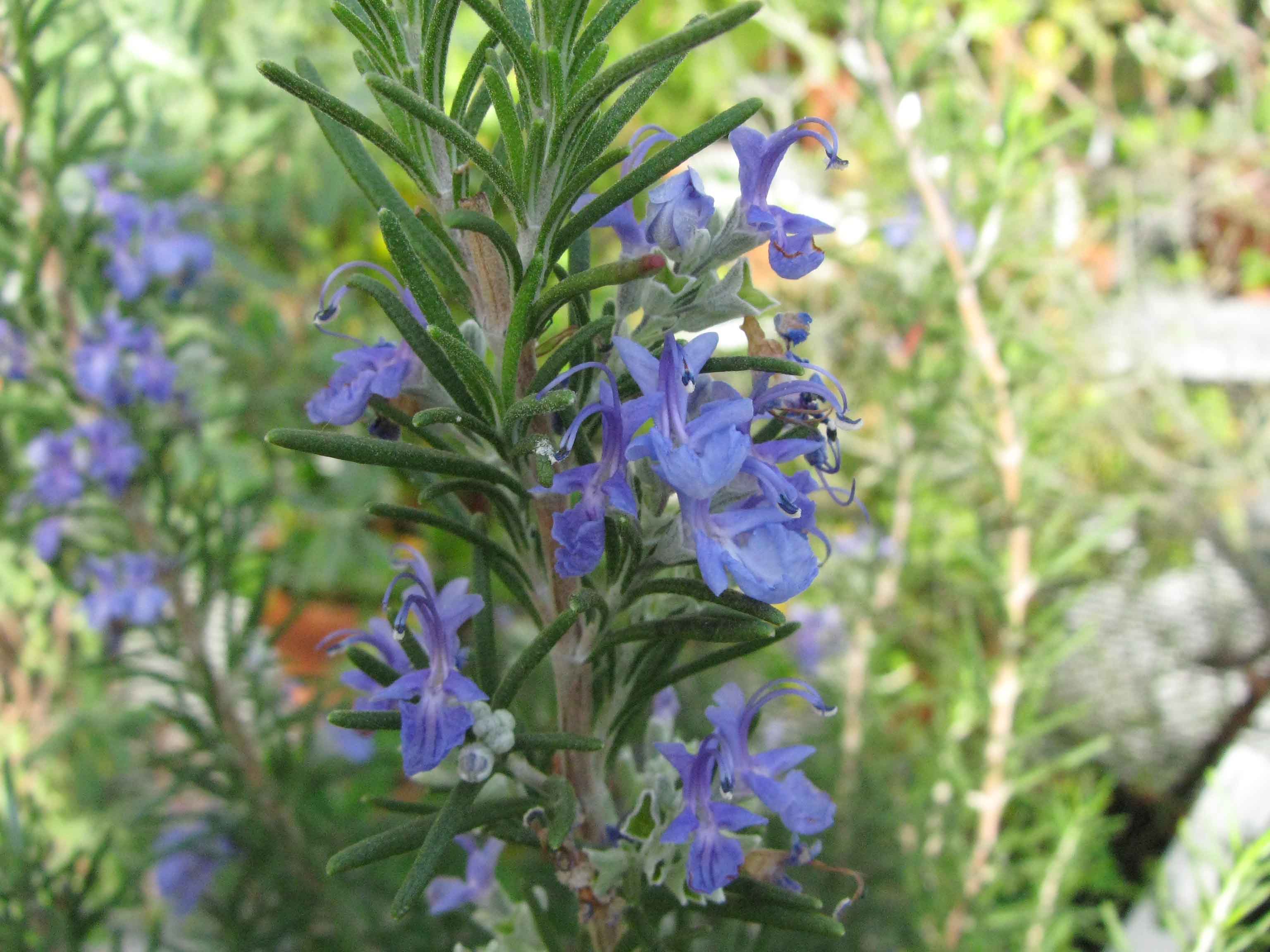 ---
Herbal Blend also contains chamomile (Matricaria recutita), which has long been a popular herbal medicine treatment for sore stomach, irritable bowel syndrome, and as a gentle sleep aid. A recent study found that chamomile helped reverse the liver damage caused by paraquat, a widely used herbicide. This is especially remarkable because paraquat poisoning is an extremely frustrating clinical condition with a high mortality rate, and there are no other effective treatments for humans. [18] Recent lab testing in the Netherlands (2010) also revealed that chamomile contains essential oils that provide dramatic antibacterial activity, and have been shown to provide protection from many of the germs that cause nosocomial infections in hospitals. [19]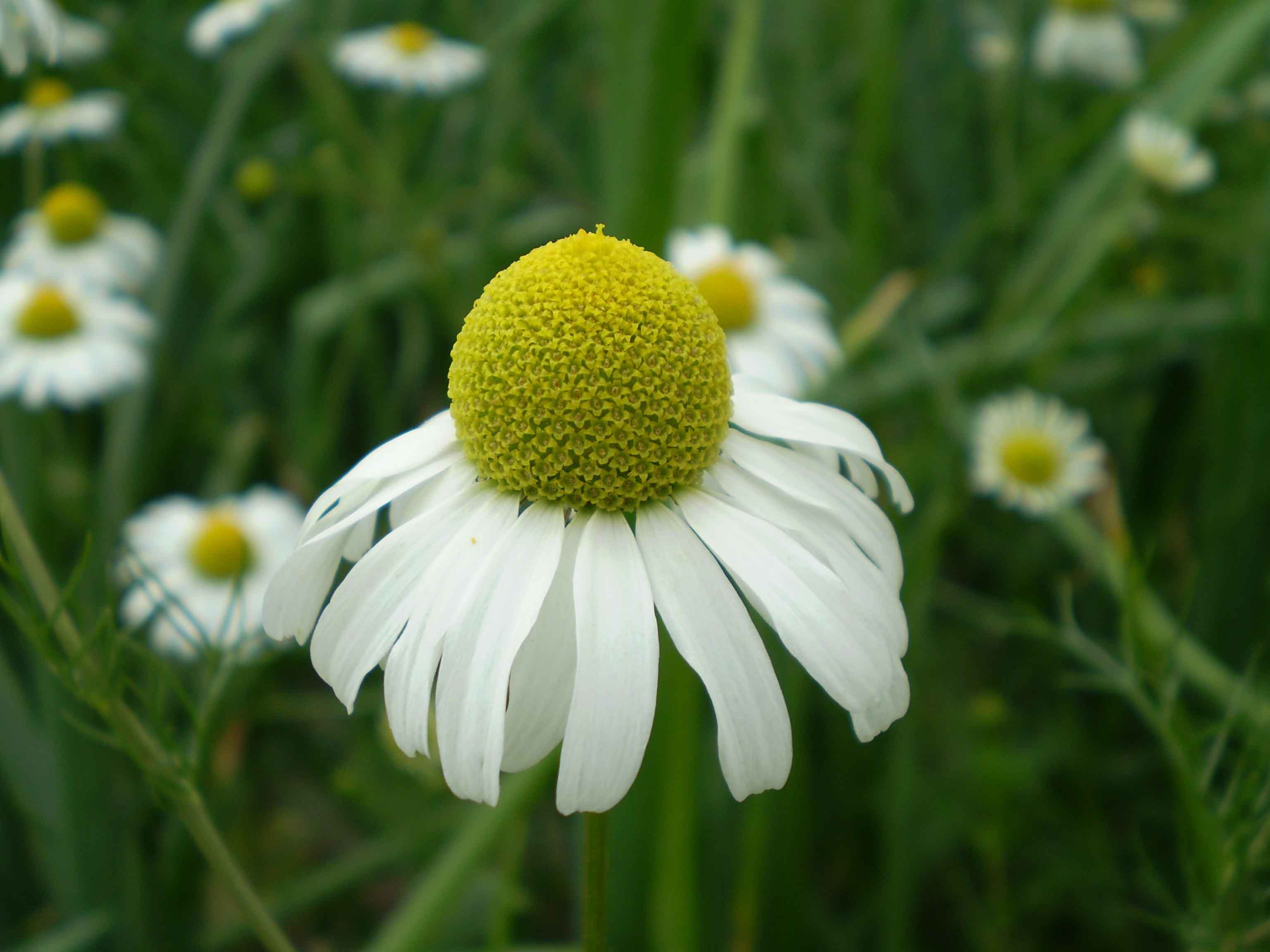 ---

So ask yourself: if your skin was damaged or inflamed, wouldn't you just love to have all of those herbs at your disposal, to speed up your healing time? The amazing news is that the price is right. You may want to acquire several tubes of Herbal Blend to position around your home and vehicles.




Meadow Blend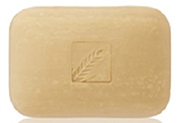 Cleansing Bar

Meadow Blend Soap-Free Cleansing Bar: (39073)

As we reviewed in a recent issue of HQ, [20] (User & p/w are shaklee) our skin is a miracle garment, which protects us from assault by a variety of different mechanisms. While we're still on the topic of care and protection of the skin, would you like to know how clean your skin without damaging the most external layer of protection, referred to as our acid mantle?

Human skin contains sebaceous glands, which produce an oily substance called sebum. This thin oil coating helps us to retain our moisture, while also lubricating and softening our skin.

It also creates a slightly acidic (or low pH) environment, which provides an effective barrier against bacteria, viruses and other potential contaminants that might otherwise penetrate our skin. This is referred to as the acid mantle. [21], [22]

Soaps, in general, are metallic salts, produced by exposing animal oils and fats (or fatty acids) to an alkaline agent like lye or sodium hydroxide. [23] Oil traps dirt on our skin, and that oily dirt just won't rinse away with plain water. Soap makes these insoluble oil particles soluble, so that they can be rinsed away when we wash. Unfortunately, most soaps are also very alkaline (high pH), and so they neutralize the protective acid barrier. [24]

This is why Shaklee created Meadow Blend, one of the first soap-free and pH-neutral cleansing agents available. Meadow Blend is created from natural, plant-derived ingredients, including oatmeal, vitamin E, lavender, and wheat germ oil. [25] I don't think anyone can sum it up better than Shaklee scientists already have.

Meadow blend:
Soothes. Oat flour and wheat germ oil hydrate and calm skin. [26]

Softens. Antioxidant vitamin E softens the skin. [27]

Protects. pH-balanced, plant-derived cleansers don't disturb the skin's essential, natural oil/moisture balance.

Aromatherapeutic. Light fragrance of citrus and lavender refreshes and calms while it cleanses. [28]

Use in all types of water. Lathers and rinses well, even in hard water.

No worries about the environment. Biodegradable cleansing agents can go safely down the drain without polluting our waterways.

Saves you money. Long-lasting bar lathers freely but won't turn to mush in the soap dish.

Uses. Perfect for whenever you require a cleansing bar: great in the kitchen, bathroom sink, and in the shower.


CitriBoost Multivitamin Powder: (20635)

Because Shaklee has so many different multi-vitamins, I admit that I have always overlooked this product. Fortunately, a mom recently shared with me that, since her child refuses to take the chewable vitamins, this was an easy way for her to get extra vitamins into him, by mixing it in his morning juice. Brilliant!

CitriBoost contains 23 different essential vitamins & minerals, along with inulin (a prebiotic) and Lactobacillus acidophilus (a probiotic) to provide friendly bacteria that promote colon health, and enhanced immune competency.

It contains 100% of all the B vitamins for natural energy and concentration throughout the day, along with a full dose of the antioxidant vitamins A, C, D and E, along with all the important trace minerals.

Plus, CitriBoost also delivers Lactobacillus acidophilus, a friendly intestinal microflora that promotes gastrointestinal and long-term colon health, and a healthy immune system.

As we grow older, our need for calories and/or energy declines and we begin to eat less. Not to mention the fact that with age, we also become less efficient at absorbing or utilizing certain nutrients. However, our bodies still require the same level of nutrition to stay healthy. This means we may actually need to consume higher levels of some nutrients to ensure that we are getting the nutrition we need.

We are also more susceptible to digestive problems like occasional constipation, diarrhea, and bloating. These issues may be caused by a lack of beneficial intestinal microflora in the intestines, which decline with age, especially among those consuming diets low in fiber and high in animal fat and protein. One solution is to supplement our diets with vitamins and minerals — but swallowing tablets and capsules can be a problem for some. Fortunately, there is an easier way to give the body the nutrients it needs. It's called Shaklee CitriBoost.

A single serving provides:
100% of the Daily Value (DV) for vitamins A, C,D, E, and eight B vitamins

Calcium,magnesium, chromium, zinc, copper, iodine, manganese, and more

More calcium and vitamin D than an 8-ounce glass of milk

Friendly intestinal microflora — Lactobacillus acidophilus — plus prebiotic support from inulin, to promote a healthy colon and immune system

Who Will Bednefit from CitriBoost?
Seniors and adults of all ages who prefer their daily vitamins and minerals in drink form, rather than a tablet or capsule

Parents who want an easy, great-tasting alternative for kids who don't like swallowing or chewing tablets

Parents looking for a comprehensive multivitamin and mineral supplement for children
CitriBoost mixes easily into orange juice or your morning protein shake. This makes it the ideal alternative multi- for those who have difficulty swallowing tablets.




ProSanté Hair Care System: (Select products here)

Even though we may supplement our diet with antioxidants, the great bulk of them are used to counteract free radicals produced during normal metabolism, so few of them ever make it to the surface of our skin. It was that realization that drove Shaklee to create the Enfuselle Skin Care System in the mid-90s and the new YOUTH® Skin Care line in 2017.

By feeding antioxidants directly to the skin, the Enfuselle system was shown to reduce the appearance of wrinkles by 421%, while increasing the firmness of the skin by 665%.

So, it was only a matter of time before Shaklee would provide those same nutritional benefits to the primary extension of our skin, namely our hair.

50% of men will experience thinning of their hair during their lifetime, and 40% of women will also experience noticeable signs of hair thinning by the age of 35.

That's what drove Shaklee to create ProSanté. Most hair thinning occurs because of hair loss during combing and brushing. You can learn much more about the physiological causes of hair thinning in Shaklee's 4-page
ProSanté Product Brief. [29]

The clinical trial on this hair care system dramatically demonstrated that ProSanté was able to deliver the same remarkable results to hair that Enfuselle did for skin. Look at these dramatic results.

By the third month of use, participants experienced:
65% less hair loss during combing

73% less hair breakage and splitting

61% experienced visibly thicker hair.
This hair care system includes 6 products that work synergistically as a team. Your day starts with a cleansing shampoo and a nutrient rich conditioner, followed by a healing scalp treatment. Then your hair is protected throughout the day by a finishing spray that provides gentle hold while also providing protection from environmental pollutants and ultra-violet damage.

---

The ProSanté hair care system starts you off by using the Revitalizing Shampoo to provide gentle cleansing, while maintaining your hair's natural pH, oil and moisture balance, strength, shine, and resilience. Its particularly effective at improving the condition of dry and damaged hair.

You will LOVE the amazing post-shampoo conditioner. The Replenishing Conditioner contains concentrated moisturizing ingredients that provide your hair with intense shine and softness. It also repairs surface damage, and mends split ends, for a silky smooth effect. Using nature-based protein and humectants, it further strengthens so it maintains its good health longer. Your hair will become increasingly healthy-looking with continued use.


The heart of the ProSanté system is the ProSante Scalp Treatment, an exclusive blend of 10 vitamins, minerals and herbs, combined in a complex, designed to comprehensively offset the stressors that interfere with normal, healthy hair follicles. This exclusive patented complex contains Superoxide Dismutase and Green Tea Extract to neutralize free radical damage, Swertia Extract to promote blood circulation, Tea Tree Leaf Oil to support microbial balance and to reduce flaking on your scalp, Saw Palmetto Extract, zinc and Vitamin B6 to normalize sebum production, and Panthenol to strengthen hair against breakage.

Finally, the Finishing Spray protects your hair throughout the day.
Because brushing and combing contributes to hair damage over time, the less you handle your hair, the better. Most products designed to style your hair weigh hair down, become stiff or sticky, and coat your hair with a residue that suffocates follicles while subduing your hair's natural shine, body and bounce. ProSanté's Long-Lasting Finishing Spray boosts shine and luster with no stiffness, flaking, or buildup, so that your hair stays healthy-looking and easy to manage.

Every head of hair requires a routine of gentle cleansing, restorative conditioning, and protection from damage, so that it can look and feel fantastic during every season and in every type of weather. Designed to not strip color or moisture from hair, each ProSanté product features Shaklee's exclusive Scalp Health Complex, a clinically formulated, highly derma-available blend of vitamins, minerals and herbs. Used as a complete system, ProSanté supports an optimally healthy scalp for volumized, healthy looking hair that lives up to its full potential.

I hope that this review of Shaklee's hidden gems gets you as excited as I was while I was researching them, and I also hope that some of these gems provide you with the same benefits that they have for thousands of other Shaklee families.


Your Shaklee
Independent
Distributor



HealthyLife-HealthyPlanet

Michael Tomberlin
Cedar Park, TX

(512) 944-6663
---
My Shaklee Website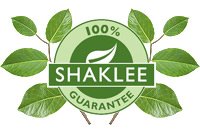 Member ID: LE63039
---

Please e-mail me
I am happy to help!
---
Shaklee Life-Strip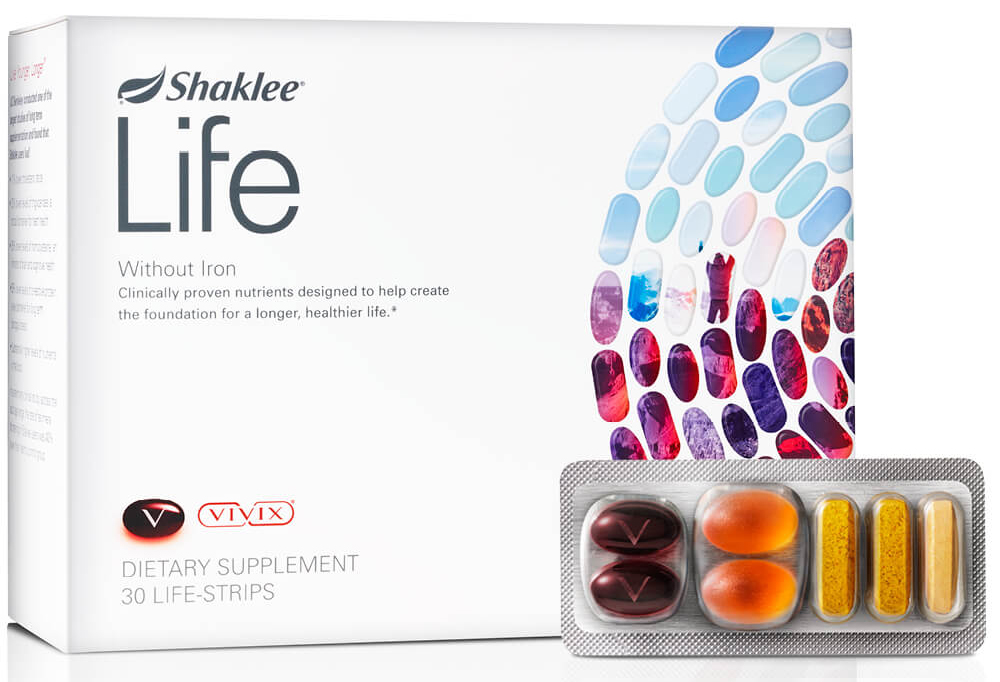 – and –

Shaklee Vitalizer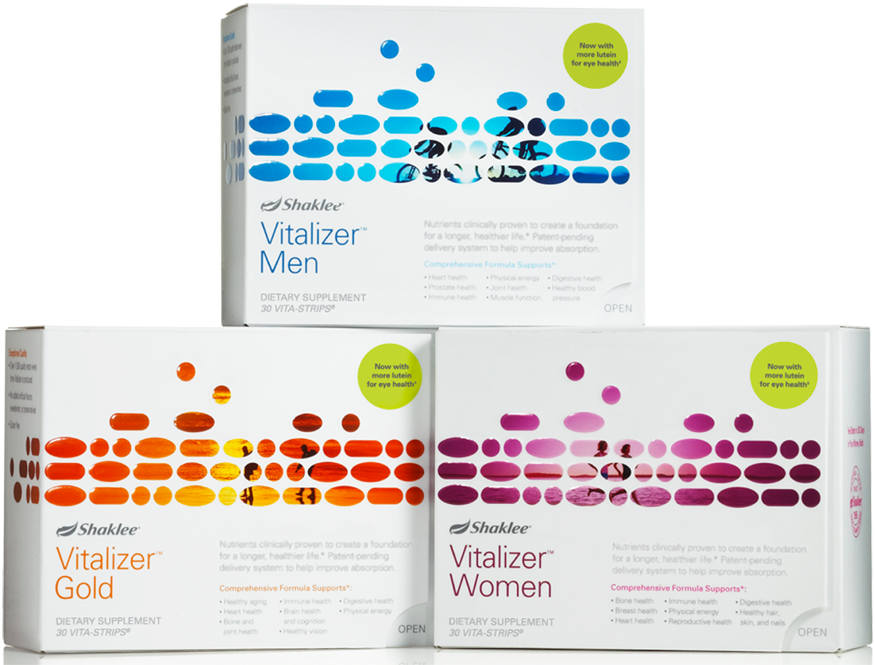 ---
Shaklee Protein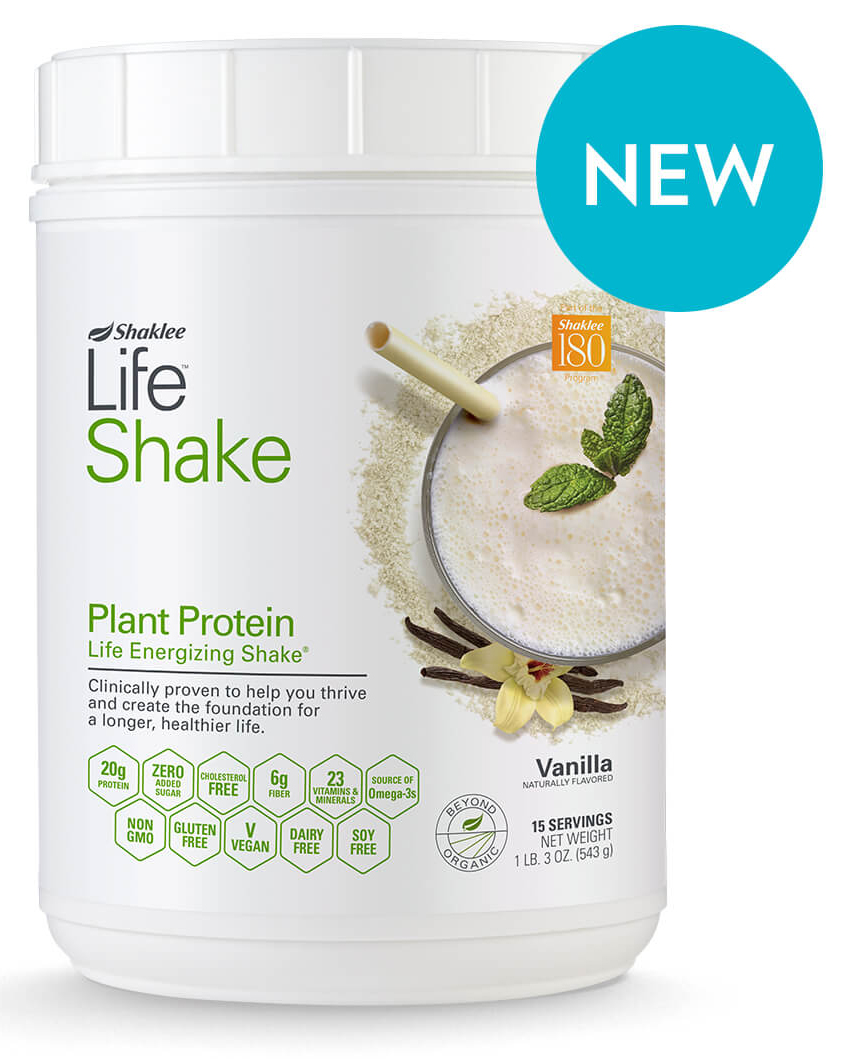 ---
Shaklee Vivix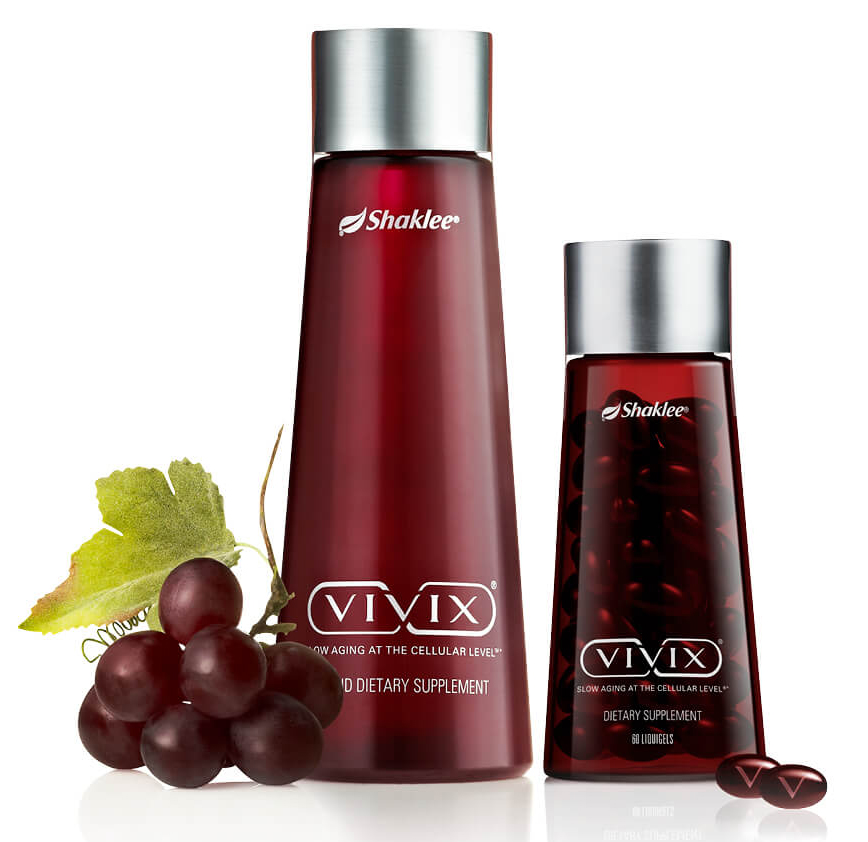 ---
Your Shaklee
Independent
Distributor



HealthyLife-HealthyPlanet

Michael Tomberlin
Cedar Park, TX

(512) 944-6663
---
My Shaklee Website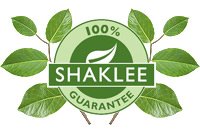 Member ID: LE63039
---

Please e-mail me
I am happy to help!
---
Shaklee 180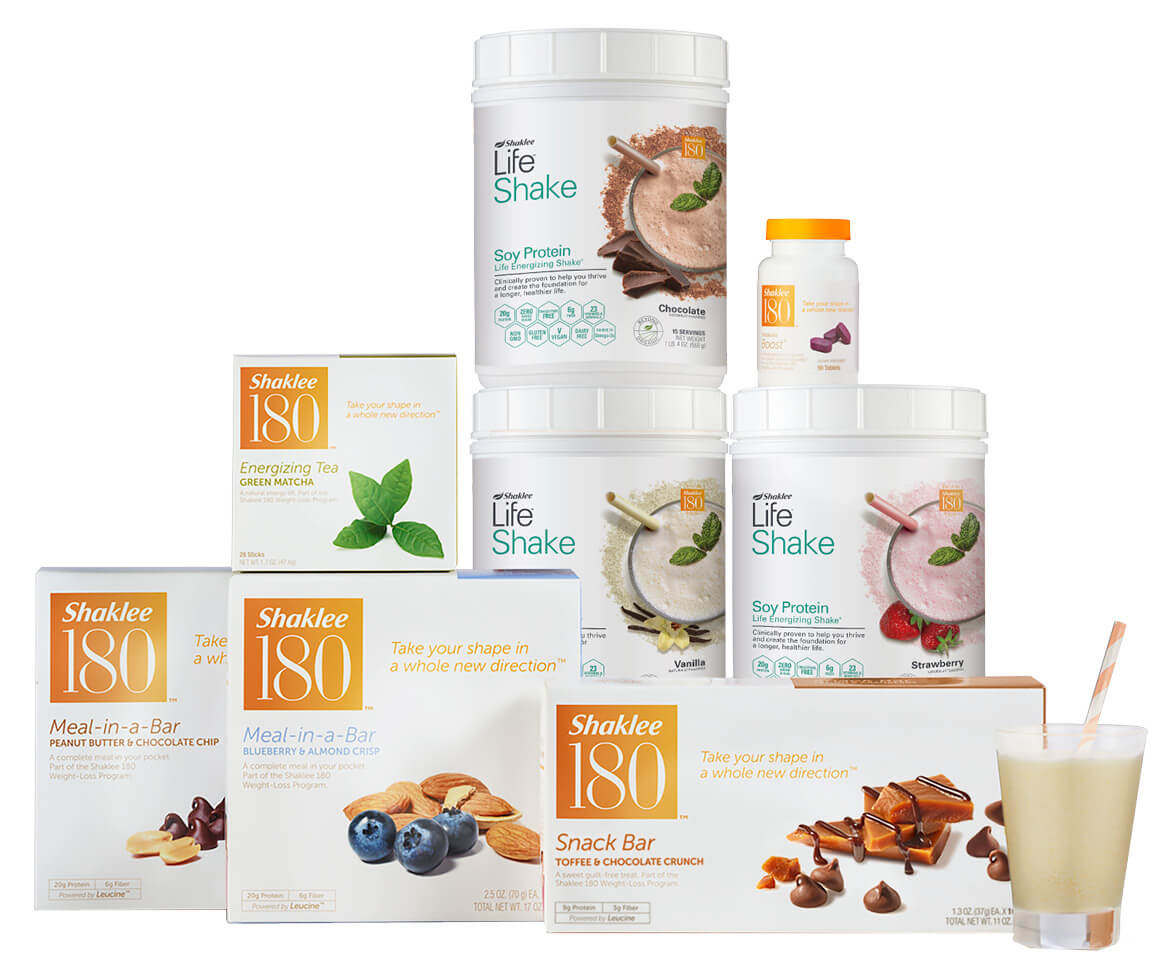 ---
Brain Health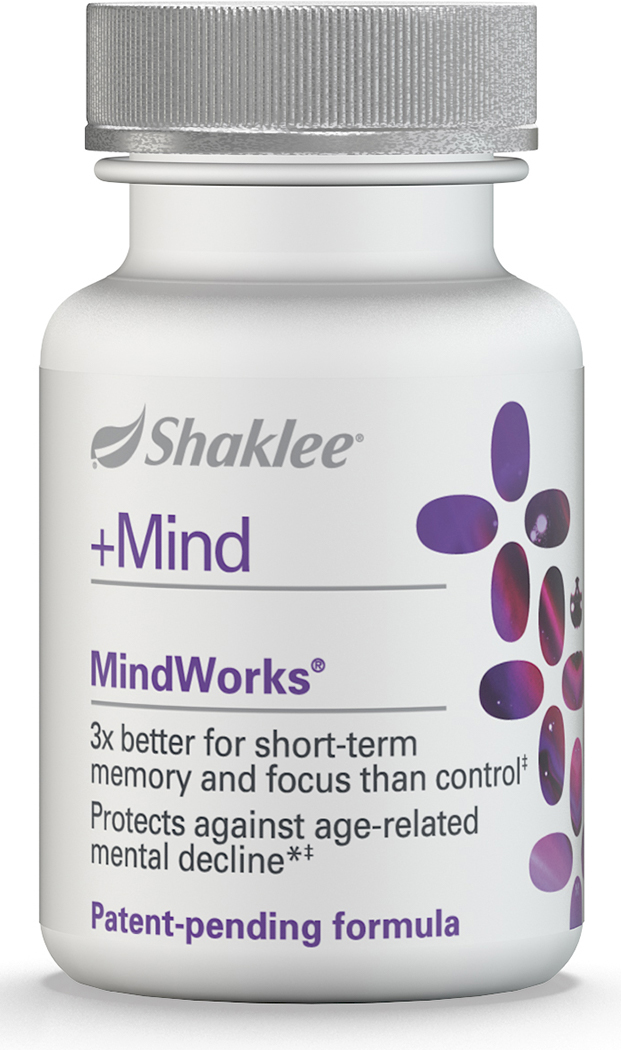 ---
Shaklee Immunity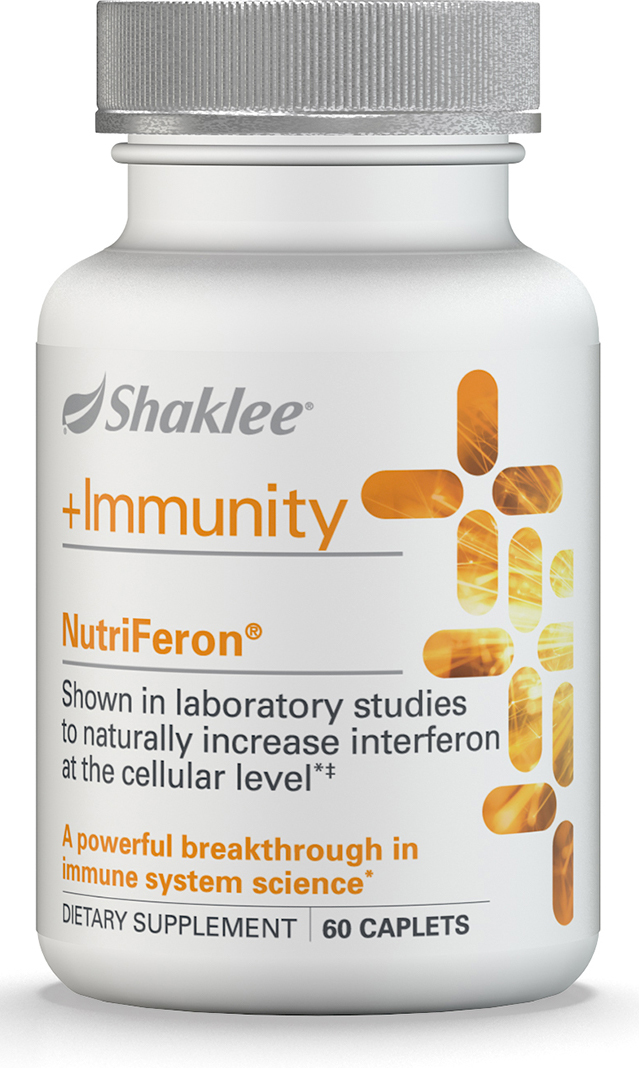 ---
Your Shaklee
Independent
Distributor



HealthyLife-HealthyPlanet

Michael Tomberlin
Cedar Park, TX

(512) 944-6663
---
My Shaklee Website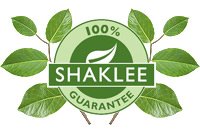 Member ID: LE63039
---

Please e-mail me
I am happy to help!
---
Shaklee Sports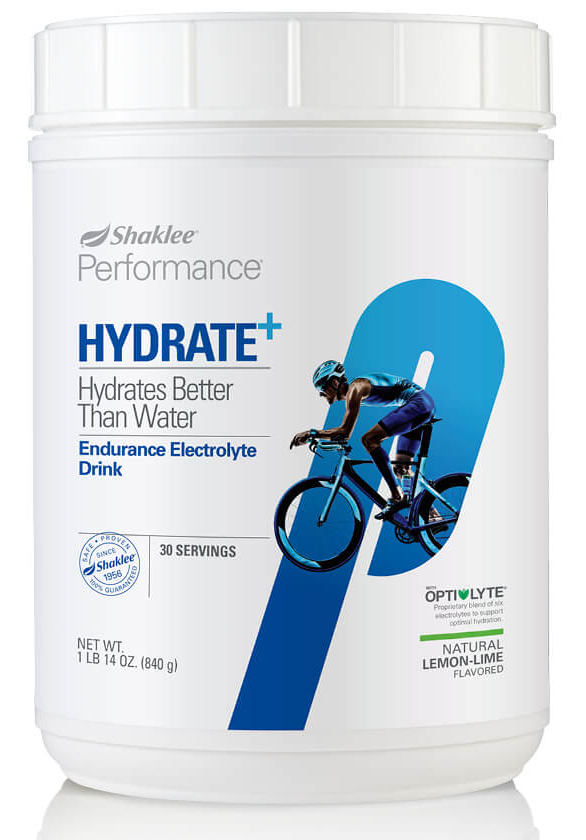 ---
Heart Health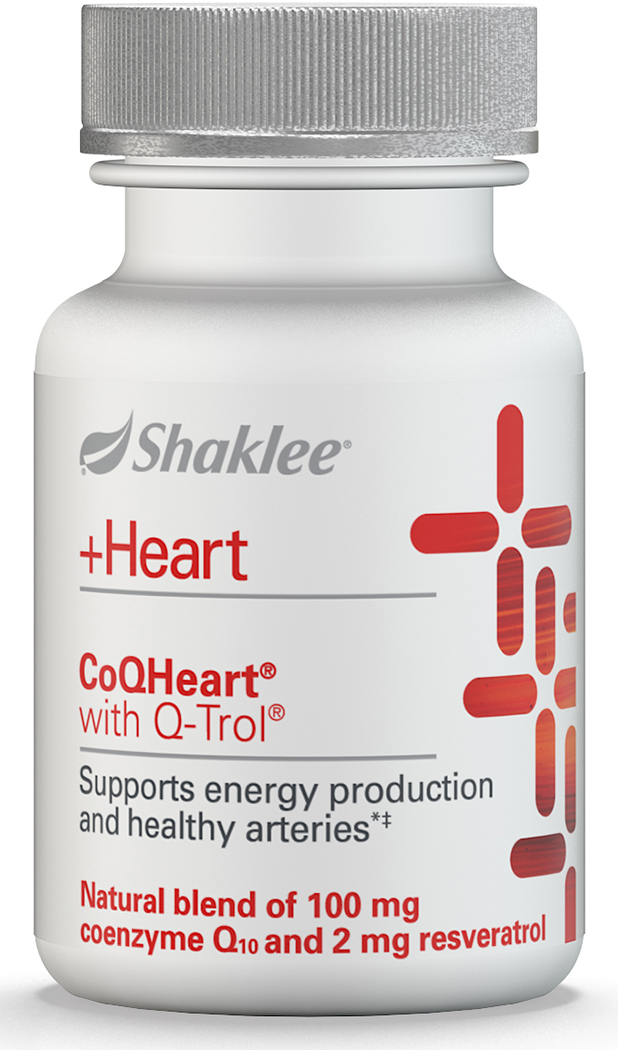 ---
Digestive Health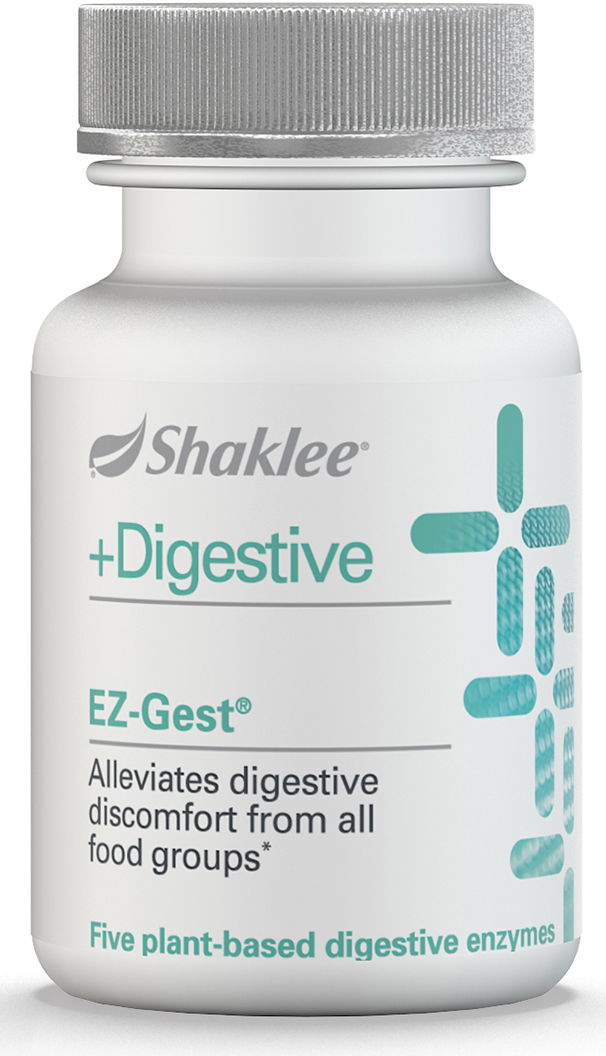 ---
Your Shaklee
Independent
Distributor



HealthyLife-HealthyPlanet

Michael Tomberlin
Cedar Park, TX

(512) 944-6663
---
My Shaklee Website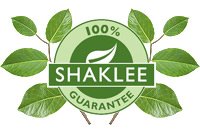 Member ID: LE63039
---

Please e-mail me
I am happy to help!
---
YOUTH Skin Care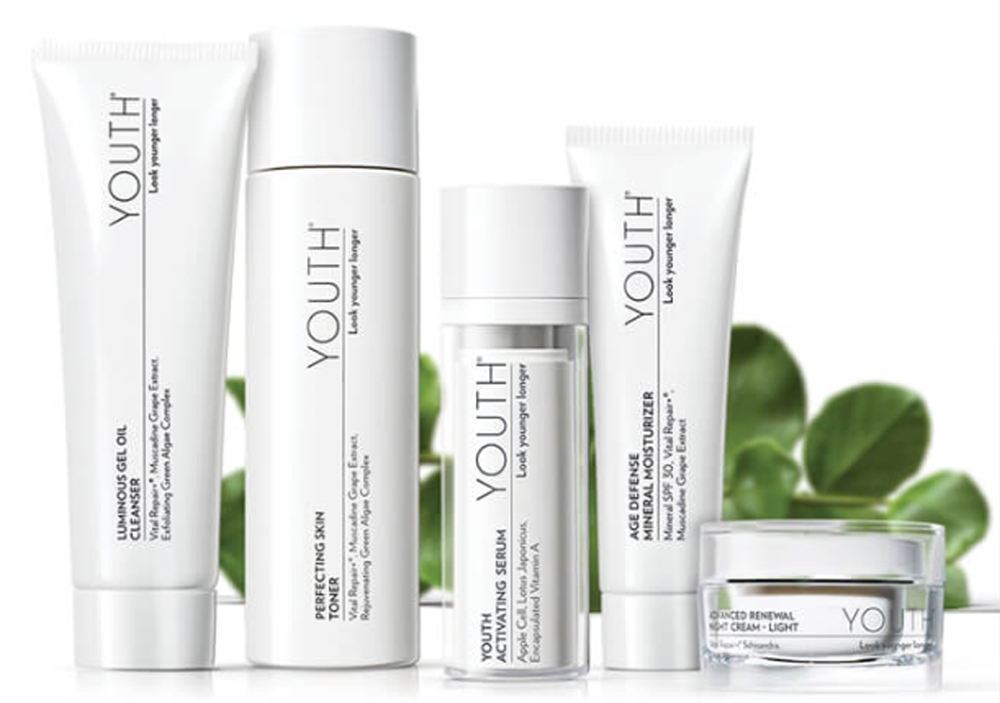 ---
Healthy Home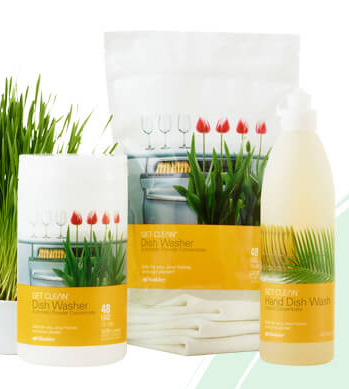 ---
Healthy Kitchen